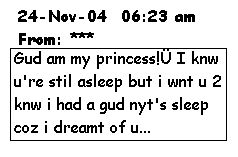 I'm awake! I'm awake! But that doesn't mean I'm going to reply to you.
And what's with the my princess?! I'm a queen, you half-wit! Diyosa, even.
Oh, and FYI, I had a good night's sleep too. Coz my dream didn't include you.





Hello?! It's 8:30! My work's at 9.
I have a bad case of tardiness but not THAT severe.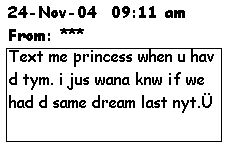 I AM NOT A PRINCESS!!!>_<
And take a hint, I'll never ever ever ever have the time to reply to you.

******************************
*.* as if! @ 2:14:00 PM • • RBJ